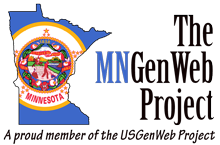 Welcome to Lac qui Parle County Minnesota

("Lac qui Parle" or "Lake That Speaks")
Hello! I am Tim Stowell, the new coordinator for this website. I'll be redesigning this site over the coming months.
If you have information to share, suggestions, or just want to say hello, please email me.
---
Lac qui Parle Co.

Lookups | Queries | Old Queries | Surnames
Links | LQP Addresses
Neighboring Counties | MNGenWeb | USGenWeb
Full MN County List
---
Lac qui Parle County
Did you know...
...that you can have your Lac qui Parle Co. family surnames and queries listed here?! Please click on the "Queries" link above to do that.
...that you can have your Lac qui Parle Co. family history homepage listed here?! Please let us know what you'd like to have listed by sending an email to me
...that the current Lac qui Parle County was created in 1871 from parts of Brown and Redwood Counties but was still considered part of Redwood Co.? Also, from March 1873 to February 1878 it was considered part of Chippewa Co. Be forewarned, however, that there was another LqP County north of the Minnesota River from 1862 until 1868! If you are looking at the 1870 census for LqP County it is this earlier one which is now part of Stevens, Swift, and Chippewa counties.
...that, according to the U.S. Census Bureau, Lac qui Parle County had a 1990 Population of 8924, and is located at 45.00095 N, 096.17530 W?
...what the Lac qui Parle Co. map looked like in 1895? Click here to find out!
...the history of Freeland Township? Click here to read it!
...the names of the Class of 1907 in Cerro Gordo Township? Click here to read it!
---
Lac qui Parle County Links
Minnesota Casualties in World War II -- lists all counties in Minnesota.
Minnesota Biographies -- maintained by Tim Stowell.
MN Historical Society's Death Certificate Index -- Search for MN deaths by soundex.
Rootsweb's Lac qui Parle Co MN Mailing List -- Here are step-by-step instructions on how to subscribe and unsubscribe to this valuable research tool!
"Compendium of History and Biography of Central and Northern Minnesota" -- (Chicago, Geo. A. Ogle & Co., 1904). This link, a webpage created by Tim Stowell, contains about 115 LQP biographies. Some names are highlighted so you can double click to get the biography. For the others it tells you to email Tim to get a copy.
The USGenWeb Archives Search Engine -- search all the archived material on the USGenWeb Archives by state!
Downloadable source data from the USGenWeb Archive site for Minnesota -- includes Lac qui Parle Co. information! (Thanks to Loraine Mueller!)
Lookup Volunteers for the MNGenWeb -- Volunteers have listed their names and resources available for lookups for Minnesota and other countries. each county with addresses, costs of a query, etc. for each location.
Minnesota censuses -- contains all Minnesota counties and URLs that lead to the various census info on line for the counties.
Lac qui Parle Co. cemeteries -- as maintained on Interment.Net
Lac qui Parle Co. cemeteries -- another resource for cemetery information as maintained on Rootsweb.com
Park Genealogical Books' "Research Notes" webpage -- lots of interesting items updated monthly to help out Minnesota researchers
Viet Nam Veterans' Memorial Wall - a searchable database of more than 58,000 names found on The Wall
Personal homepages with information on Lac qui Parle County families:
The Borchardt Family - with information on the STEFFEN family.
The Rien (Family) Room - with information on the RIEN, GLOEGE, and other families.
The Anderson and Nelson Families - with information on those families maintained by Dianne Rabchak.
---
Lac qui Parle County Addresses
Lac qui Parle County Historical Society
P.O. Box 124
Madison, MN 56256

Lac qui Parle County
600 6th St.
Madison, MN 56256-1233
(320)598-3724
---
Neighboring Counties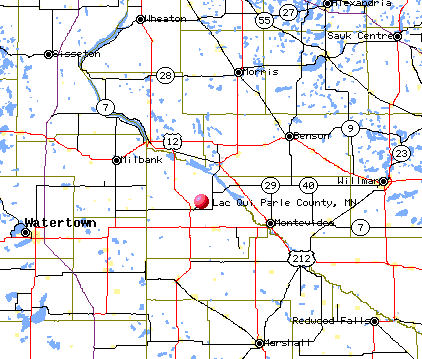 Listing them clockwise starting from the north:
Big Stone Co., MN
Swift Co., MN
Chippewa Co., MN
Yellow Medicine Co., MN
Deuel Co., SD
Grant Co., SD
In March and April, 1996, a group of genealogists organized the Kentucky Comprehensive Genealogy Database. The idea was to provide a single entry point for all counties in Kentucky, where collected databases would be stored. In addition, the databases would be indexed and cross-linked, so that even if an individual were found in more than one county, they could be located in the index. This lead to The USGenWeb Project of which MNGenWeb is a part.
Volunteers are needed who are willing to coordinate the collection of databases and generally oversee the contents of the web page.
---
You are our welcome visitor since 8 March 1997 -- thanks for stopping by!
---
Copyright 1998-2018 by Lac Qui Parle County Coordinators for the MNGenWeb Project

This page last modified -- 19 Jul 2018